"The best attorney ever!!! I'm blessed to have found you ELR Abogados!"
"She is an amazing attorney, if I were to get into details it would be a lot to say about my husbands case. But I can tell you this he was considered a flight risk and had another charge as well, he was denied bond the first time with the worst attorney. And 6 months later I found ELR Abogados, I did a lot of research and I was convinced when I seen she's been on tv and on a magazine where the people she's helped come out with her saying she's helped them. She sure is the queen of bonds, if you are looking for an attorney please please please give her a call I promise you, you will not regret it. My husband had a hard case and today she was able to get him out on bond! My husband said she was amazing during the hearing and she even called me saying she got the bond for him, she called to see how I was doing, texted me to see if I was able to pay the bond and offered more help and advice! ELR you are my angel and I feel so blessed to be able to find you, I was scared to have my husband deported or kept in detention, but after six harsh months you are able to bring him home to and my 3 kids that miss him very much! Please hire her people it would be the best decision you ever make! My husband should be released tomorrow 8/16"
"ELR Abogados was able to get my dad out of ICE twice! I wouldn't go to any other lawyer"
"ELR is a fantastic attorney with a huge heart. She is a compassionate person at her core, and her legal skills are unmatched by the competition. I found her to always be responsive to my questions and concerns. She was never too busy for me. She absolutely goes the distance for clients and I would highly recommend her. There is no one better."
"Amazing immigration attorney"
"Our son was detained by ICE when entering the US through Huston Texas , October 2015. He had been convicted of a felony in 2003 and received alternate sentence in a rehab. We hired ELR Abogados who was successful in getting him released from custody without bond and returned to his family in Los Angeles. She then was successful in convincing the government to rescind their removal order and allow him to apply for citizenship. An amazing achievement that other lawyers we interviewed said was pretty impossible. Thank you ELR…. our Family will always be very grateful to you and your team."
"Thank you for all you done !!!"
"I would give ELR Abogados 10 stars! ELR Abogados is A-M-A-Z-I-N-G to work with."I am impressed and really happy with the attention and marvelous job ELR Abogados and her team have done with my brother case. "I was very fortunate to come across and hire attorney ELR Abogados to represent my brother on an extremely difficult deportation case. ELR Abogados is a very caring, honest, knowledgeable, and professional attorney. She quickly gained our confidence and trust. ELR Abogados worked diligently to help my brother get out of deportation and continue to work to stop the deportation process. All throughout her work, she kept me informed in a very detailed manner of all the steps that were being undertaken. All the pros and cons in the decision making process were explored. ELR Abogados extensive knowledge in immigration law is impressive. She was prepared to meet and overcame all challenges presented before her. She's excellent job in handling the deportation case led us to trusting her with re-opening the case that led to my brothers deportation proceedings. due to Ineffective Assistance of Council by y brother prior attorney. ELR YOU ARE VERY BLESS WITH YOUR TALENT. THANK YOU IN BEHALF OF OURFAMILY. We will continue to work with you and have a Successful ending to this matter. I recommend ELR she's a Great Amazing Attorney."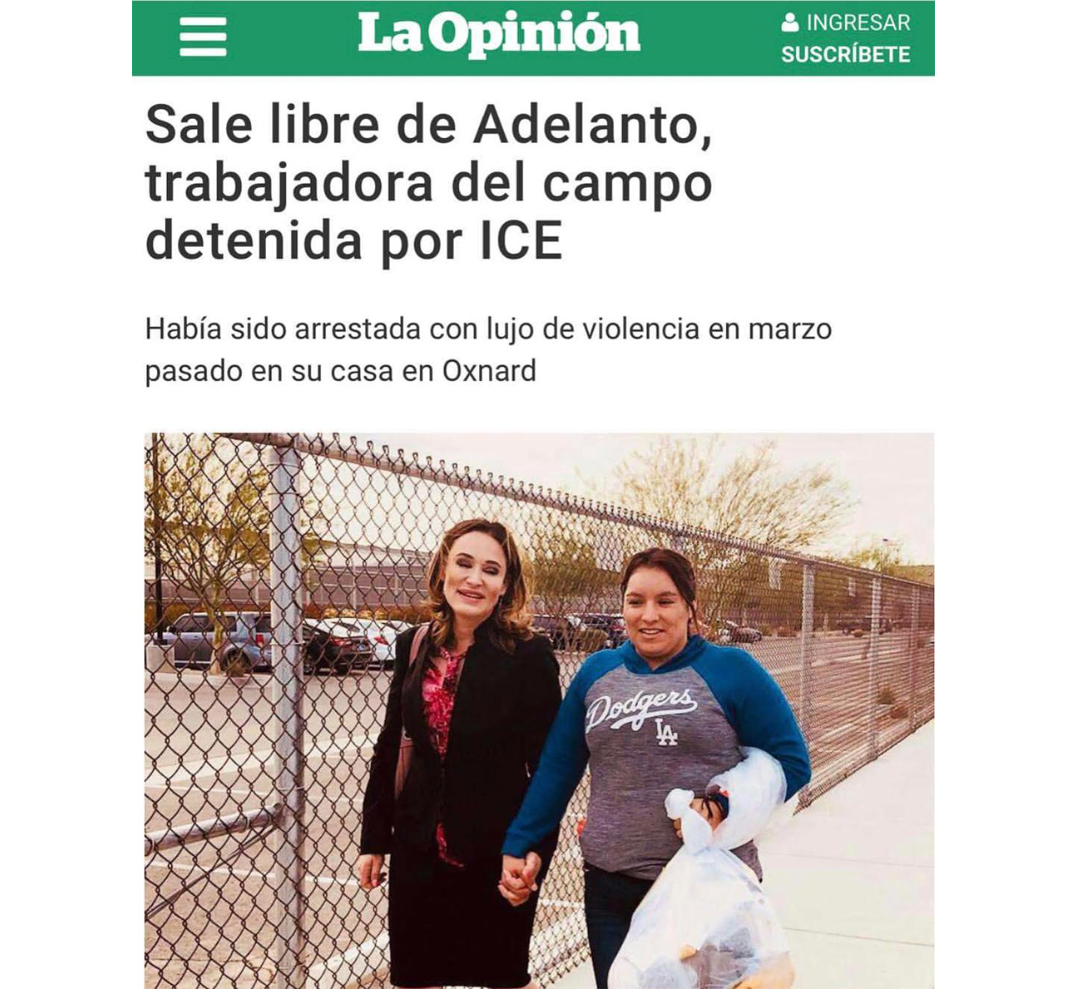 PÓNGASE EN CONTACTO CON NUESTROS ABOGADOS HOY PARA UNA EVALUACIÓN LEGAL GRATUITA. ‎
"Wow. The office truly cares about the case. From ELR to her staff, everyone was on top of it and worked hard to fight for me. Honesty was most important to me and they kept their word. ELR made it possible for my family to stay together. They were straightforward about the process and we did prevail."
"I Couldn't be happier with our Attorney ELR Abogados. She is a very organized and detailed attorney. She made sure that my wife and I were prepared in every possible aspect. She answered all of our questions and helped us understand EVERYTHING. Whenever I called, she always answered, and that was the highlight for me. Our case was a success and I'm sure that anyone who goes to ELR for legal help, will not be disappointed. Thank you, ELR, and your team for making mine and my wife's dreams possible."
"My Dad who has had a green card for many years was recently arrested by Immigration police on a charge from 1986. We hired Erika Roman to help us with my Dad and at his first court meeting in Adelanto she was able to get him bond."